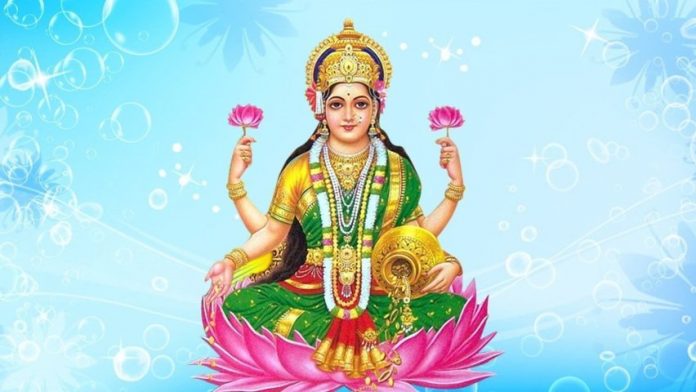 Lakshmi Mantra can create tremendous results to attain Huge Money and Wealth. Maha Lakshmi Mantra creates perfect frequency in the chanter's Aura. This aura helps to find and attract more money. Once Lakshmi Mantra is adjusted and aligned with chanter's energy, then it gives continues the flow of money and wealth.
This one is the main Maha Laxmi Mantra for chanting to attract money.
♠ OM SHRI MAHA LAXMAI NAMAH ♠
ॐ श्री महालक्ष्म्यै नमः
For adjustment and alignment, Laxmi Mantra takes almost 40 days of nonstop chanting. But for some people, it takes a little longer. No one has a clear explanation of why Laxmi Mantra or any other mantra takes a longer time for an alignment.
As a bonus, at the end of this article, you can find and know the How to Become a MONEY MAGNET in 40 Days. Now continue read to know Top 10 Powerful Lakshmi Mantra:-
Who is Goddess Maha Lakshmi (Mahalaxmi)
In Hinduism, Goddess Lakshmi is a Deity of Money and Wealth. According to Hindu and Indian culture, Goddess Mahalaxmi is straightforwardly related to all the worldly affairs. Lord Vishnu's wife Goddess Lakshmi also plays a protector role like Lord Vishnu. Goddess Mahalaxmi is as kind and protective as Lord Vishnu for the whole World. She is also called Maha Lakshmi. It is believed that her mantra gives endless money to live a perfectly prosperous and wealthy life.
Goddess Lakshmi is the Symbol of Good Fortune in Hinduism. In the Sanskrit Language, the meaning of the word Lakshmi is imitative from the word Laksya (Aim). She is the Goddess of money, wealth, and prosperity even both material and spiritual. Goddess Mahalaxmi is the goddess of luxury, wealth, beauty and power.
In Jainism, Mahalaxmi is also a significant Goddess and easily found in Jain temples. Sri Laxmi imitated the gathered riches and monetary freedom of the Tamil Temples. As you know Goddess Lakshmi is a symbol of good fortune, good luck, success prosperity, and happiness. Mahalaxmi is one of the Goddess of the trinity of Hindu Culture. The other two Goddesses are Goddess Saraswati and Goddess Shakti.
What is the Figure of Goddess Maha Lakshmi (How Goddess Mahalaxmi is Looks Like)
Goddess Lakshmi is a fair and golden complexion female Deity. She has 4 hands. Sitting or standing on a full-bloomed pink or red lotus. She holds a beautiful lotus bud in one of her hand. Goddess is well dressed by wearing Red Robe (Saree) or reddish-golden clothes (a symbol of power and prosperity), few Gold Ornaments, standing or seated on a Lotus Flower. She holds Golden Pot filled with Gold Coins in her hand. Flowing coins from her hand show the abundance. In some figures, she holds Lotus Flower in her hands. Two white Elephants shower Divine Liquid over her from both sides. Spraying water from them is the symbol of both material and spiritual prosperity.
It stands for charm, purity, and lushness. Goddess Lakshmi's four hands represent these four main points of human life:
Dharma-Virtue
Artha-Wealth
Kama-Desire
Moksha-Ascension
What is the Meaning of Laxmi
Word Laxmi is directly derived from the word Laksha. In the Sanskrit language, the meaning of word Laksha is Observe, Perceive, Recognize and Aim. Therefore the meaning of Laxmi is to understand and know your aim. Other meanings of Laxmi in local languages are auspicious, quality, lucky charm, aim, symbol, target, sign, good luck, feature, opportunity, etc.
Various Names of Goddess Mahalaxmi
In ancient Stotram, Text, and Sutras of Hinduism and Jainism, Goddess Mahalaxmi has hundreds of names and the most famous and commons are:
Padma, Kamala, Sri, Srija, Vishnupriya, Padmahasta, Padmapriya, Padmamukhi, Kalyani, Sridevi, Srividhya, Chanchala, Shreeya, Madhavi, Haripriya, Subha, Samruddhi, etc.
How to Start Lakshmi Mantra
There are many types of Lakshmi Mantras. Each Mantra creates its own vibrations. All Lakshmi Mantras give money, wealth, and prosperity.

People often start any of Lakshmi Mantra from Friday. Some people start from Full Moon. They used to chant it with a rosary of

lotus seed

. If you don't have lotus seed rosary, you can use a crystal rosary.

You must know that the chanting of all kinds of Laxmi Mantras gives money, wealth, power, good fortune, and prosperity.

There are lots of mantra and you would confuse what to pick or whom to leave. At that time just listens to your soul, choose one of them and start chanting with full faith and discipline.

Counting of Mahalakshmi Mantra depends on your need. If your need for money is less then daily 108 mantra chanting is enough. If your need for money is high then go for daily 540 mantra chanting. The more you chant, the more you attract money. Money is the blessing of Goddess Lakshmi.

For the successful outcomes of a mantra chanting, you only need full faith and a regular chanting.

It is said that you should start chanting of this Mantra from Friday or from Full Moon. Diwali is also a good day to start chanting of Mahlaxmi mantra.

Some people offer you different kinds of Mahalakshmi Mantras according to your horoscope. I feel that Goddess Lakshmi is a merciful power of Lord Vishnu, so you don't worry about the ethics of the horoscope. You can also take a look at 10 Powerful Shri Sai Baba Mantra for Money, Success, Wealth, Marriage & Job.
List of Top 10 Lakshmi Mantra
1. Powerful Mahalakshmi Beej Mantra ⇓
"Shreem" is one of the powerful seed mantra of Mahalakshmi. Few people also chant the Shreem Mantra as a powerful Switchword for money. Switchwords are special English Mantras and very famous in western countries.
Know more about what are switch words. 
Know more about Shreem Mantra.
'SHREEM' also works as a switch word and it is already added in my Switch Word List and Dictionary. 
2. Powerful Mahalakshmi Mantra ⇓
"Om Sarvabaadhaa Vinirmukto, Dhan Dhaanyah Sutaanvitah, Manushyo Matprasaaden Bhavishyati Na Sanshayah Om"
3. Powerful Lakshmi Mantra ⇓
"Om Shreem Shriye Namah"
4. Mahalakshmi Gayatri Mantra ⇓
This is the Mahalakshmi Gayatri Mantra. This is one of the most powerful mantra of Mahalakshmi.
"Om Shree Mahalakshmyai Cha Vidmahe Vishnu Patnayai Cha Dheemahi Tanno Lakshmi Prachodayat Om"
5. Most Famous Mahalakshmi Mantra ⇓
"Om Shreem Maha Lakshmiyei Namaha"
6. Mahalakshmi Mantra ⇓
"Om Hreem Shreem Kleem Maha Lakshmi Namaha" 
7. Powerful Mahalakshmi Mantra ⇓
"Om Shreem Vishnupatinye Namaha"
8. Another Best Mahalaxmi Mantra ⇓
"Om Hreem Shreem Lakshmibhayo Namaha"
9. Maha Lakshmi Mantra ⇓
"Om Shreem Hreem Shreem Kamale Kamalalaye Praseed Praseed Om Shreem Hreem Shreem Mahalakshmaye Namaha"
10. Tantric Style Lakshmi Mantra ⇓
This is the Powerful Tantric Mantra of Mahalakshmi. In this tantric style mantra, the creator has used and added many bija sounds. 
"Om Shreem Hreem Kleem Aim Som Om Hreem Ka A Ee La Hreem Ha Sa Ka Ha La Hreem Sakal Hreem Som Aim Kleem Hreem Shreem Om"
How to use Laxmi Mantra for Getting Money Urgently
When you regularly chant Laxmi Mantra, it will arrange the Universe in such a way that your own energy field becomes much power to attract money, prosperity & Divine Powers of Wealth. Sometimes chanting of this Mantra gives you an instant result and sometimes it takes a few days to get the desired results but it is sure that these mantras are always very helpful to become RICH.
Why Mahalaxmi is Worshiped in Diwali
It is said that Goddess Mahalaxmi visits each and every house, office, shop, factory and other places where her Devotees worship her at Diwali Night to bless everyone with money, wealth, good luck and prosperity. Lord Ganesha is also worshipped with Goddess Mahalaxmi at Diwali night to remove all hurdles and obstacles of his Devotee's path. It Raise-Up Your Money Field.
Benefits of Chanting Maha Lakshmi Mantra (Maha Laxmi Mantra)
Chant any one of above Mahalakshmi Mantra. Once you decide the mantra to chant, please continue with the chosen one for at least 40 days to get full benefits. Note sometime Geopathic Stress does also responsible for poverty.

The benefits of chanting of Lakshmi Mantra like getting immense wealth, money, and richness. 

Choose one Ganesh Mantra out of 24

Powerful Ganesh Mantras

 to chant with Lakshmi Mantra. This way of chanting helps you to attain more wealth in life. They both also give overall growth in life. Ganesh mantras can also create miracles in your life. 

For full benefits of Mahalakshmi Mantra, worship Goddess Lakshmi as she is your mother, who is always ready to Nourish Your Life With Her Blessings. If you want good health with a prosperous life

daily chant one health mantra too. R

ead about

Best Mantra for Health

. Total Wealth Serum is another useful and easiest way to attract money, wealth and abundance in your life. 
I think you love to read Kleem Mantra (a powerful mantra to attract people). You can read here

Shri Maha Lakshmi Aarti In Hindi and English

.
You no need to chant any of the above Lakshmi Mantra if you are a VK user. Only

Total Wealth Serum

can fulfill all your money, success and wealth-related worldly desires. You can also mimic the energy of any of the above mantra. To know how to mimic read the whole description here at VK Tips 20.

 

Mahalakshmi Mantras also increases chanter's looks, youthfulness, and health.

Moreover, daily chanting of any Mahalakshmi Mantra provides an abundance of money, finances and also in relationships.

For a good job, one can chant these Mantras.

These mantras also increase money and richness in your life

.
I

f you are a Businessman, you will find an increasing attraction of customers towards your business which will lead to huge wealth and money.

Promotions are very easily attained during the chanting of the Mahalakshmi Mantra.

Even though the Mahalakshmi Mantra can increase profits for the business, it also helps to attract more customers. Read here

many solutions about money-related issues

.

 
How to Become a MONEY MAGNET in 40 Days
Please feel free to comment on the comment box below. Ask anything regarding this Lakshmi Mantra article. I am here to help you with this Lakshmi Mantra topic. Regular chanting of this Mantra creates a Powerful Auric Field which attracts abundance and fortune easily. Wealth, fortune, luxury, cash, power, and prosperity are more easily attracted by the chanting of Lakshmi Mantra.